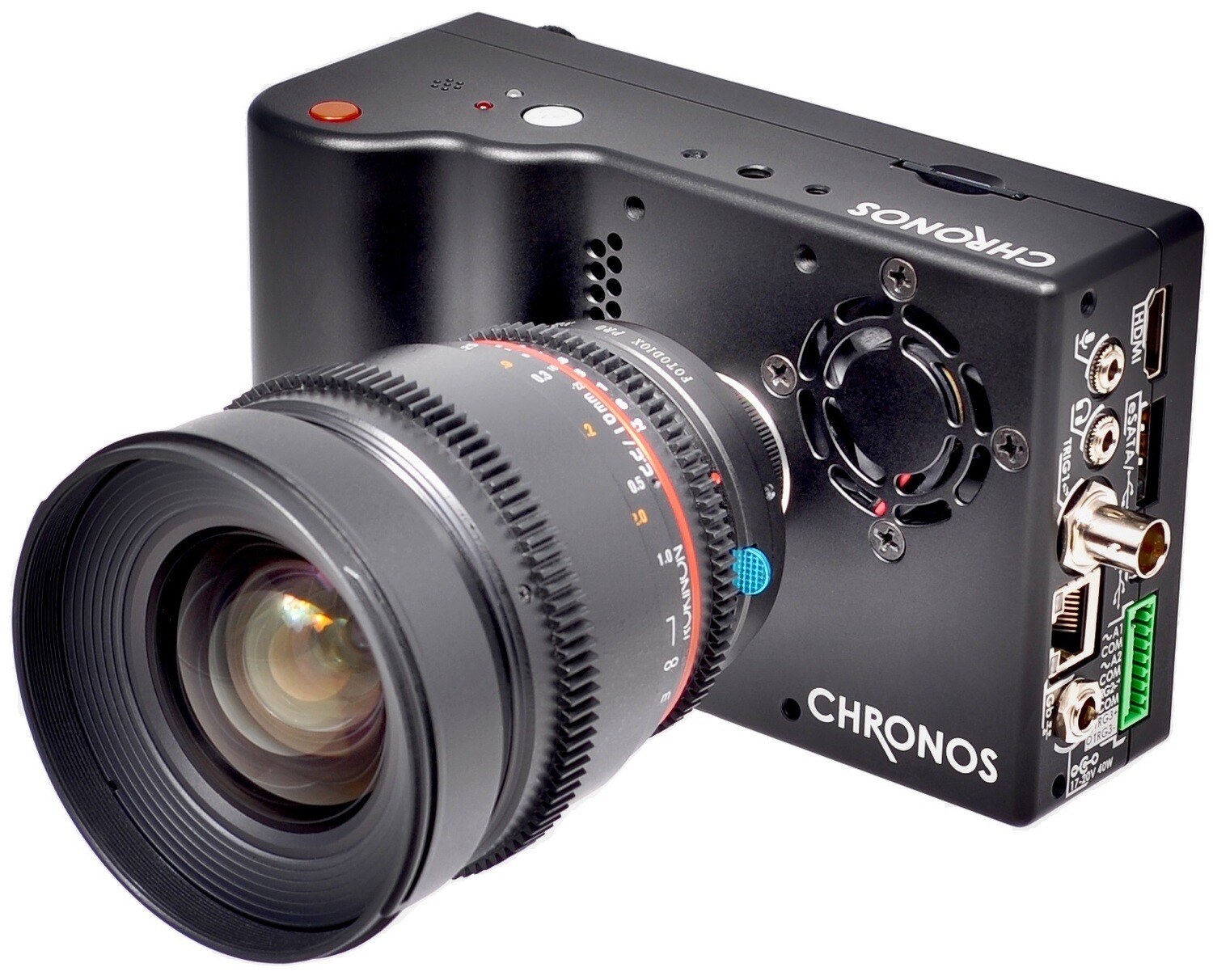 Chronos 2.1-HD High Speed Camera - Pre Order
SKU CR21-HD-PRE-8C
Product Details
Note 1: The Chronos 2.1-HD doesn't come with a lens. You will need to visit our store and add the lenses that you want to include with your order.

Note 2: Kron Technologies can estimate a shipping timeline of January 2021 for a new Chronos 2.1-HD pre order placed now.
Chronos 2.1-HD features:

2.1Gpx/s, Full HD 1920x1080 image sensor captures 1 000 fps, and up to 24 046 fps at lower resolution. Available in color and monochrome.
8GB, 16GB and 32GB memory options for 2.5, 5.5 and 11 second record time respectively.
High sensitivity base ISO of 500 (Color) and 1000 (Monochrome) enables shooting with modest lighting.
Completely standalone, untethered operation with 1hr internal battery. Runs indefinitely on AC adapter.
Many lenses supported: Nikon F, Canon EF and C mounts available as field-swappable options.
Focus peaking highlights sharp edges for quick and perfect focus. Zebra lines help you set correct exposure.
See full specifications in the Chronos 2.1-HD Datasheet and Chronos 2.1-HD User Manual
Includes:
Chronos 2.1-HD camera
Battery
Power supply (19V 40W, universal input)
Power cord (with location-appropriate plug)
CS to C mount lens adapter
Nikon F to C FotodioX lens adapter (normally possible to get a Canon EF/EF-S to C FotodioX lens adapter but out of stock for now)
User Manual
32GB SD Card for saving videos
Note: Performances of the camera under poor lighting conditions
Our team has noticed two issues can be seen under poor lighting and specific gains:
1) Vertical banding in a semi ellipse shape on the left and right edges of the frames at gains of 6 and 12dB (see image by clicking here).
2) Moving vertical banding more apparent at high gain (see demo video at https://youtu.be/ZCekznY3SP8).

The imperfections above will be resolved through a free upcoming software update. We are also exploring the possibilities of using a script to mitigate those issues. A great way to mitigate those issues for the time being is to operate at 0dB of gain and light the scene enough. We highly recommend using high quality LED lights such as Godox or similar brands because of their great performances at high speed and their reasonable price. Existing video editing software such as DaVinci Resolve and Adobe Premiere also offer interesting denoise features to improve the quality of your slow motion videos substantially.
Save this product for later
Need a water housing for your Chronos camera?
We have partnered with Salty Surf Housing to offer you a solution!