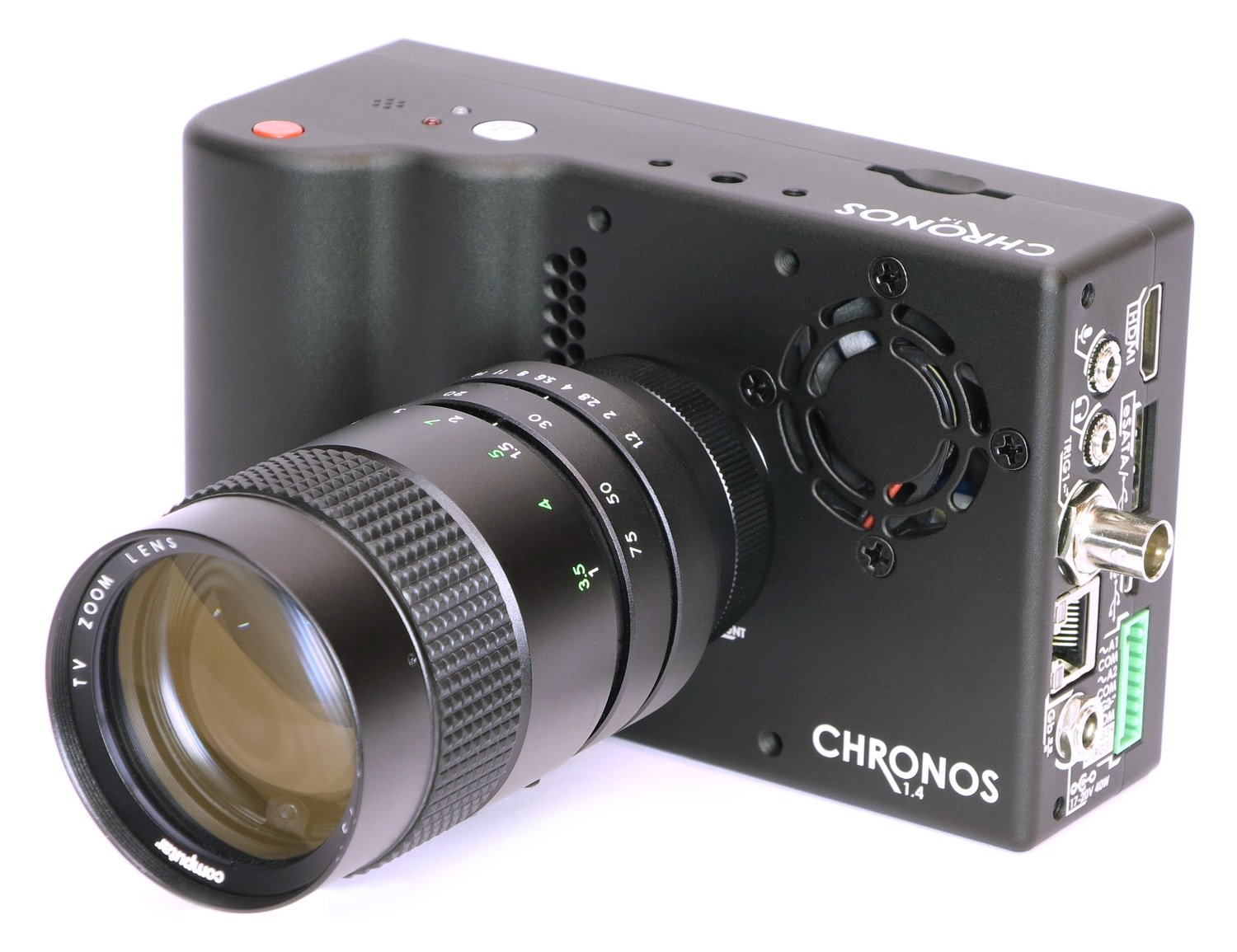 Chronos 1.4 high-speed camera
SKU CR14-1.0
Product Details
Chronos 1.4 high speed camera expected to increase in price (to start at $3400 USD) mid spring with the next software release. Please be advised that if you require a quote for the current price to email info@krontech.ca or submit a quotation request to generate a quote with the current price, valid for 30 days.
Monochrome cameras are no longer in stock. We will update in two weeks (April 19th) about lead time and availability. Please allow for six weeks for Monochrome camera delivery.
Chronos 1.4 is a 1.4 gigapixel-per-second handheld high-speed camera. Completely self-contained, you can take high-speed imaging with you anywhere. It records 1280x1024 video at 1057fps, and can record at up to 38 500fps at lower resolution. Video is saved in compressed h.264 or uncompressed RAW format to removable media. You can shoot for hours, saving hundreds of shots on a single card.
1.4Gpx/s, 1.3 megapixel image sensor captures 1280x1024 @ 1057fps, and up to 38500fps at lower resolution. Available in color and monochrome. The monochrome option has higher effective resolution and is twice as sensitive as color.
8GB, 16GB and 32GB memory options for 4, 8 and 16 second record times respectively.
High sensitivity of ISO 320-5 120 (Color), 740-11 840 (Monochrome) enables shooting with modest lighting.
See full specifications in the Chronos 1.4 User Manual or Chronos 1.4 Datasheet
See the Resource Page additional documents such as the 3D model, and forum for more software information
Includes:
Chronos 1.4 camera
Battery
Power supply (19V 40W, universal input)
Power cord (with location-appropriate plug)
CS to C mount lens adapter
Quick start guide
(if selected) Lens
32GB SD Card for saving video
Save this product for later