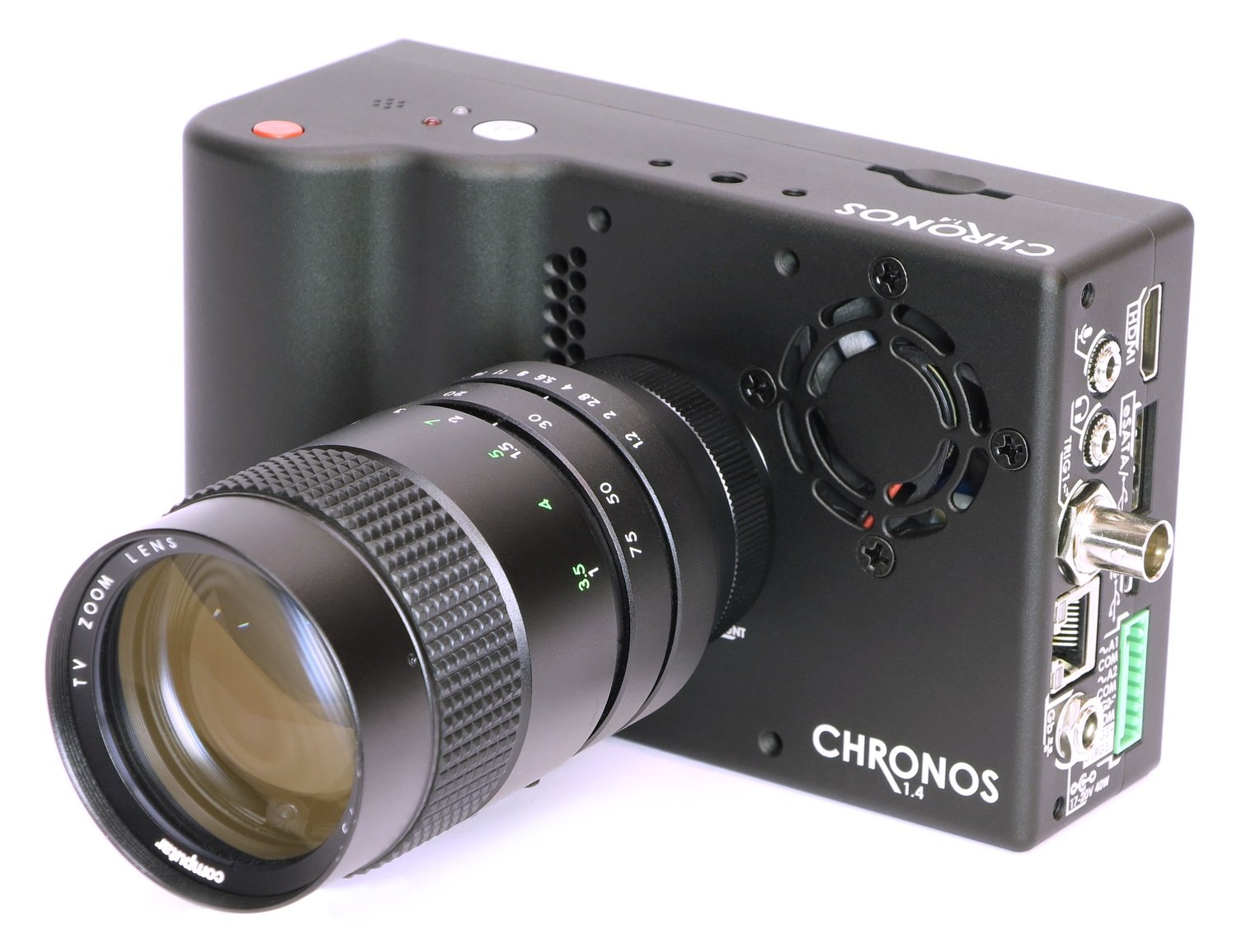 Chronos 1.4 High Speed Camera
SKU CR14-1.1
Product Details
Estimated Delivery Time: 4 weeks from order date (upon submission of all shipping documents required)
Note: The Chronos 1.4 doesn't come with a lens. You will need to visit our store and add the lenses that you want to include with your order.
Chronos 1.4 is a 1.4 gigapixel-per-second handheld high-speed camera. Completely self-contained, you can take high-speed imaging with you anywhere. It records 1280x1024 video at 1057fps, and can record at up to 38 500fps at lower resolution. Video is saved in compressed h.264 or uncompressed RAW format to removable media. You can shoot for hours, saving hundreds of shots on a single card.
1.4Gpx/s, 1.3 megapixel image sensor captures 1280x1024 @ 1057fps, and up to 38500fps at lower resolution. Available in color and monochrome. The monochrome option has higher effective resolution and is twice as sensitive as color.
8GB, 16GB and 32GB memory options for 4, 8 and 16 second record times respectively.
High sensitivity of ISO 320-5 120 (Color), 740-11 840 (Monochrome) enables shooting with modest lighting.
See full specifications in the Chronos 1.4 User Manual or Chronos 1.4 Datasheet
See the Resource Page additional documents such as the 3D model, and forum for more software information
Includes:
Chronos 1.4 camera
Battery
Power supply (19V 40W, universal input)
Power cord (with location-appropriate plug)
CS to C mount lens adapter
Quick start guide
(if selected) Lens
32GB SD Card for saving video
Save this product for later
Need a water housing for your Chronos camera?
We have partnered with Salty Surf Housing to offer you a solution!